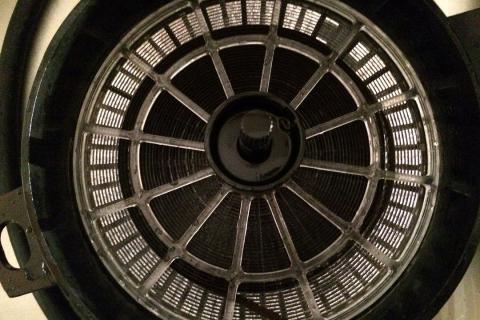 1) Correct positioning of the spiral
Arrow towards me, that is to the south. Long leg to the east, short leg to the southwest
2) Identification of the tape
The holes must be kept down
3) Positioning of the tape on the spiral
The tape should be inserted in the Short leg, positioned in southwest
4) Slight rotation of the spiral clockwise, until the tape touches the long leg that will be positioned to the west. The arrow will then be placed to the northeast. The short leg will be in the east
It is important to keep the inclination of the tape with parts pitted down inwards and the part not pocked upwards towards the outside
5) Further rotation of the spiral until the arrow is in the east
6) Positioning of the upper spiral
7) Identification of the holes of both spirals
8) Insertion of knob and screwing
9) Rotate the spirals through the knob, maintaining a certain tension
Precautions: if you leave the spiral loaded for many hours (for example during the night) it may happen that the tape spreads, you lose tension creating strange but sometimes interesting results.
 
Italian translation / Traduzione in italiano: 
Passaggi per il caricamento del film Super 8 nella Lomo Tank
1) Posizionamento corretto della spirale
Freccia verso di me, ovvero a sud. Gamba lunga a est, gamba corta a sud ovest
2) Individuazione del nastro 
I buchi vanno tenuti verso il basso 
3) Attacco del nastro alla spirale
Approccio dalla gamba corta posizionata a sud ovest  
4) Leggera rotazione della spirale in senso orario, fino a che il nastro tocca la gamba lunga che si troverà posizionata a ovest. La freccia a quel punto sarà disposta a nord - est. La gamba corta si troverà a est
Importante è mantenere l'inclinazione del nastro con parti bucherellate in basso verso l'interno e la parte non bucherellata in alto verso l'esterno
5) Ulteriore rotazione della spirale finché la freccia si trova a est
6) Posizionamento della spirale superiore
7) Individuazione dei buchi di entrambi le spirali  
8) Inserimento pomello e avvitamento
9) Rotazione delle spirali attraverso il pomello, mantenendo una certa tensione
Accorgimenti: se si lascia la spirale caricata per molte ore (per esempio durante la notte) può capitare che il nastro si allarghi, si perde tensione creando strani ma talvolta interessanti risultati.